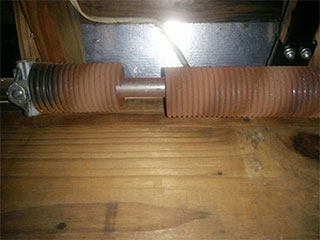 Many common garage door issues can be traced to a problem with the springs; these are some of the hardest-working parts of your door, and they are put under constant strain. Although these components are built to last, they do have a finite lifespan, and as they approach the end of their working life they will need to be replaced.
The Danger of a Broken Spring
When a garage door spring breaks it can be extremely dangerous; not only does the sudden release of tension carries the potential to damage anything around it, but the door panels will be dropped immediately. For this reason we advise homeowners to seek professional assistance at the first sign of trouble.
Identifying Common Issues
When a garage door starts to wobble and squeak while operating, this is often a sign that the springs are beginning to lose their strength. As soon as these issues begin to occur it's best to contact our professional repair service to have our experts identify the problem and replace the damaged component if necessary.
Leave It to the Pros
It can be tempting to try and replace your springs without professional assistance, but this can be extremely dangerous. We strongly advise homeowners to contact us before proceeding with any repairs, because the extreme tension held within these springs has the potential to cause severe damage if not properly handled.
New Options Available
We stock modern garage door springs that are far superior to the aging components that still exist in many doors; improved anti-corrosion coating, greater durability and strength means that new springs are well worth the investment.
Replace Now, Don't Delay
If your door is showing any signs of wear, it's important to address this as soon as possible; contact our experts at Garage Door Spring Austin today to find out how we can help.
When it comes to your door, we don't settle! We also offer:
Garage Door Off Track Repair
Emergency Broken Spring Replacement
Belt Drive Opener Installation
Part Replacement & Repair