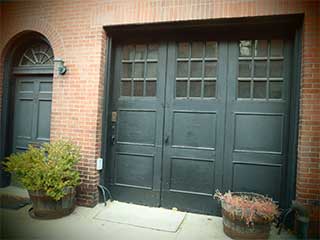 If you store valuables in your garage or use it as a workspace, you would want to make sure it is as secure as possible. Also, if your garage is directly connected to your house, it's all the more important that you make sure it is secure, as burglars could try and utilize it in order to gain access into your home. Although some garage doors come equipped with lock features, it doesn't hurt to add additional ones in order to maximize the system's security. The least that it will do is provide you with additional peace-of-mind. There are some great lock options available out there, and we had our experts write a short overview of a few of our favorite ones.
The Slide Bolt Lock

This is probably the most popular type of garage door locks. It is placed on the part of your door that faces inside your garage. Since no one can see the lock from outside, it will be less likely that they will attempt to break it. This lock consists of a bolt with a receiving slot that is placed along the door's track. Although it's quite simple, this lock offers very effective security.

A Deadbolt Lock

Over the years, these locks have proven their effectivity against break-ins. A single cylinder deadbolt requires you use a key to open it from one side and has a knob or a handle on the other. A double cylinder deadbolt means that you'll need a key for both sides of the door. Intruders typically choose a lock that doesn't require this much effort to pick, which is why this type of lock can be a great choice.

A Fingerprint Scanner

With this type of lock, your fingerprint is used instead of an actual key. Several fingerprints can be saved and stored so that multiple people will be able to open the lock. This type of lock is more expensive than some of the other effective types, but it is well worth the investment because only persons who had been programmed into the system will be able to disengage it.

Digital Password Lock

As self-explanatory as the fingerprint scanner, this type of lock uses a passcode instead of a physical key. To gain access, you just key in the code and the lock will open.
Be sure to contact our experts at Garage Door Spring Austin to learn more about various lock options for your system.