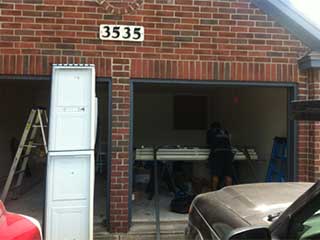 When seeking local garage door repair services, all you have to do is turn to our company to receive the fastest response and the best professional solution. We're always just a phone call away.
Replacing Cables and Springs
If you have a snapped cable jamming your door, you can count on us to replace it with a new one of the exact same length and strength for perfect balancing of the unit. Our team is also quick and effective when it comes to replacing broken torsion and extension springs. We can install strong and durable new springs for your system and adjust them accurately so that the operation of your door will be safe for you and your family members.
Professional Repair Technicians
There isn't a problem that our highly skilled specialists can't fix using their well-acquired professional skills, advanced precision tools and high-quality replacement parts. Whether one of your opener's gears has worn-out or your track has acquired a few too many dents, you can expect excellent and long-lasting results when you call our expert technicians. We're absolutely meticulous when it comes to fixing small components like rollers, hinges and the trolley. Whether you have decaying wood panels or rusting steel ones, you can rely on our team to restore them to their previous condition or replace them with new ones that will compliment your door perfectly.
Maintenance Leads To Prevention
With our professional maintenance routine, we can keep your door and your opener in perfect condition, as well as greatly reduce the risk of damage and malfunction. From lubricating the springs to ensure their smooth operation to the realignment of the photo eye sensors that are in charge of detecting an obstacle in a moving door's path. The various tests we'll perform will make sure every feature of your garage door system is functioning properly, and if any part fails to live up to our strict standards, we'll quickly replace it with one that does.
At Garage Door Spring Austin, we believe in providing our customers with complete satisfaction. Call us whenever you find yourself in need of professional assistance of any kind.
We also offer the following:
Torsion Spring Repair & Replacement
Garage Door Opener Track Maintenance
Overhead Door Installation
Garage Door Cable Replacement