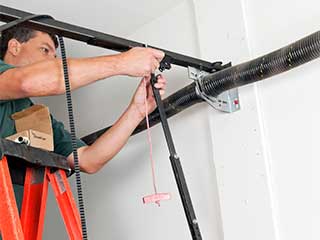 One of the most important parts of keeping your garage door running smoothly is regular maintenance. Over time, many parts in your door will begin to wear out, and will start to degrade; in many cases, all that's needed to avoid these issues developing into major problems is a little care and attention.
Avoid Escalating Problems
The moving parts in your door are put under great stress every day; it's no surprise that they'll eventually need to be examined to ensure they continue to operate at optimal effectiveness. In many cases all that's needed is some recalibration, realignment, and proper lubrication. A little maintenance work can often prevent a small problem from turning into a big one.
Professional Upkeep Services
Our technicians are highly experienced and are able to quickly identify any issues with your garage door. They'll examine each component in turn, from the electrical systems, safety sensors, motors and remote controls, to the mechanical pulleys, springs, rollers and cables that keep your door moving day after day.
Regular Ongoing Service
Many garage door manufacturers stipulate that regular maintenance procedures are a requirement of their warranty. As such, it's vital that homeowners arrange for professional technicians to inspect and assess the condition of their door on a regular basis, ensuring that any potential issues are caught before they can escalate into major problems.
Working on a garage door requires the professional touch of a trained technician; our specialists are fully trained to identify the root cause of any issue, and can quickly determine what the best course of action is.
Seek Professional Assistance
It's essential to keep your door in an optimal working condition to ensure it stays reliable day after day. Contact our team at Garage Door Spring Austin today to find out how we can make sure you can always rely on your garage door.
But wait, there's more! We also offer:
Garage Door Safety Inspections
Opener Sensor Repair & Replacement
Extension Spring Adjustment
Broken Garage Door Track Repair